Affiliate Disclosure: We may be compensated if you use our links to make a purchase. We are extremely selective in who we partner with & only recommend products we believe in. Our affiliate relationships do not influence our recommendations.
CourseLauncher is a LearnDash hosting, development, & consulting company with over 10 years experience building LearnDash sites. Every so often, they welcome a handful of new clients into their LearnDash Ignition Program—where they take LearnDash course creators from concept to launch in just 90 days.
LearnDash Ignition Program Features
The LearnDash Ignition Program saves clients hundreds of hours of work and thousands of dollars in plugins & additional tools. As part of the program, CourseLauncher provides…
LearnDash hosting (they're our #1 rated LearnDash host)
Licenses to 20+ popular plugins
A full marketing suite
Access to weekly live trainings
Strategy sessions
Pre-built automations
…and much more
Basically, CourseLauncher is offering to build your LearnDash site for you (minus some content entry you'll need to do yourself), give you access to a ton of premium plugins that you were going to buy anyway, show you how to use LearnDash, strategize with you, give you access to pre-built marketing automations to help market your course, and host & maintain your site for you (some ongoing costs do apply here).
Who is this for?
For anyone just getting started with LearnDash, or building a new LearnDash site, this is exactly what I'd recommend.
I've seen far too many folks hire an inexperienced developer who didn't understand LearnDash, and over a year later, they are still trying to get their site launched. If and when they finally do, it doesn't work the way they want it to, or they experience errors because it was built poorly.
If you already have a site running smoothly, this isn't the program for you. But Ellen and her team at CourseLauncher do provide LearnDash services for established sites as well.
Cost
Here's a full list of everything you get with the LearnDash Ignition Program:
Website Loaded w/ Plugins
Modern Site Design
Full Marketing Suite
Mission Planning Guide
Weekly Live Training
Weekly Implementation Sessions
Specialized Learning Pods
Bi-Weekly Strategy Sessions
Pre-Built Marketing Automations
CourseLauncher Implementers Club
Your Story, Your Brand Planner
Evergreen Webinar Planner
Email Follow-Up Planner
Offer Cure™
CourseLauncher lists the full value at just over $10,000.
Their normal price for the LearnDash Ignition Program is $5,000.
Sign up before March 31, 2023 and you can get in for just $2,500.
You'll be put into the April 2023 cohort, and your site will be provisioned no later than April 10th.
If you've never built a website before, $2,500 might sound like a lot, but for a LearnDash site, it's an incredible deal. You can find developers oversees and/or on Fiverr who will quote you some ridiculously low rate, but 95% of the time, you'll end up with a terrible product, and have to pay even more to pick up the pieces.
If you're serious about your LearnDash site, I encourage you to make this investment upfront. I don't think you'll regret it.
Plugins Included
Here's a full list of all the plugins included. You also get the full premium stack from Kadence, which includes the Kadence theme, Kadence blocks, and Kadence WooCommerce add-ons.
LearnDash
LearnDash ProPanel (reporting)
LearnDash Notifications
LearnDash Course Grid
WooCommerce for LearnDash
Design Upgrade Pro for LearnDash
Uncanny Toolkit (free & pro)
Uncanny Automator (free & pro)
FunnelKit Funnel Builder
FunnelKit Automations
Elementor (free & pro)
Ultimate Add-ons for Elementor
Fluent Forms
RankMath (free & pro)
WP Media Folder
FluentSMTP
Header Footer Code Manager
LearnDash Ignition Program Examples
Here's an example of the package of things you received throughout the program: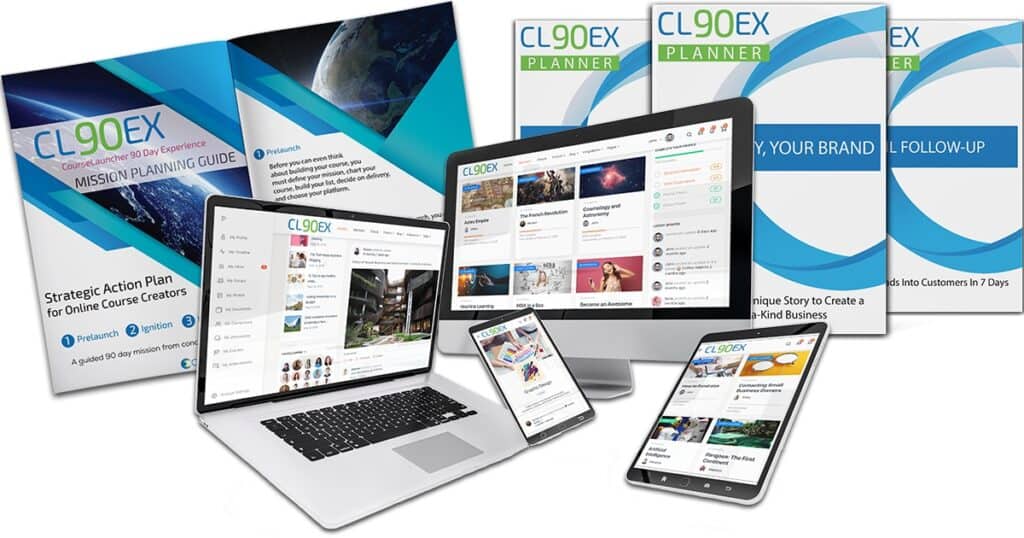 And here's an example course page that was built by a client during a previous Ignition Program 90-day cohort: