Affiliate Disclosure: We may be compensated if you use our links to make a purchase. We are extremely selective in who we partner with & only recommend products we believe in. Our affiliate relationships do not influence our recommendations.
With LearnDash, one of the easiest ways to encourage discussion amongst your students, as well as the instructor, is to use native WordPress comments. There are forum plugins and third-party live chat solutions, but using comments is a quick & simple way to allow for discussion to take place within your LearnDash courses.
There are a few steps to ensure comments are enabled for LearnDash. Let's walk through each one.
1. Enable Comments in WordPress
First, you'll want to make sure the default WordPress commenting system is enabled.
Globally
This should be enabled by default, but it might have been turned off. Any changes you make to this setting will only work for future content that you create. It does not change the setting of any individual lesson, topic or quiz already created.

Navigate to Settings > Discussion
In the Default post settings section, check the box for "Allow people to submit comments on new posts"
Click Save Changes at the bottom
This will ensure that all future content you create will have comments turned on by default.
You see it says "These settings may be overridden for individual posts." You can turn on/off commenting for specific lessons/topics/quizzes. You'll want to double-check your individual content settings as well, to make sure comments are turned on.
NOTE
Before you leave this page, feel free to peruse the other discussion settings, and update anything you'd like. We're not going to cover all the commenting options in this article.
If you don't want all future content to include comments, feel free to skip this step. You can activate comments on a lesson-by-lesson basis.
2. For Each LearnDash Content Type
The next place you need to enable comments is via a LearnDash setting. For each content type…
courses
lessons
topics
quizzes
assignments
essays
…you can choose to enable or disable comments.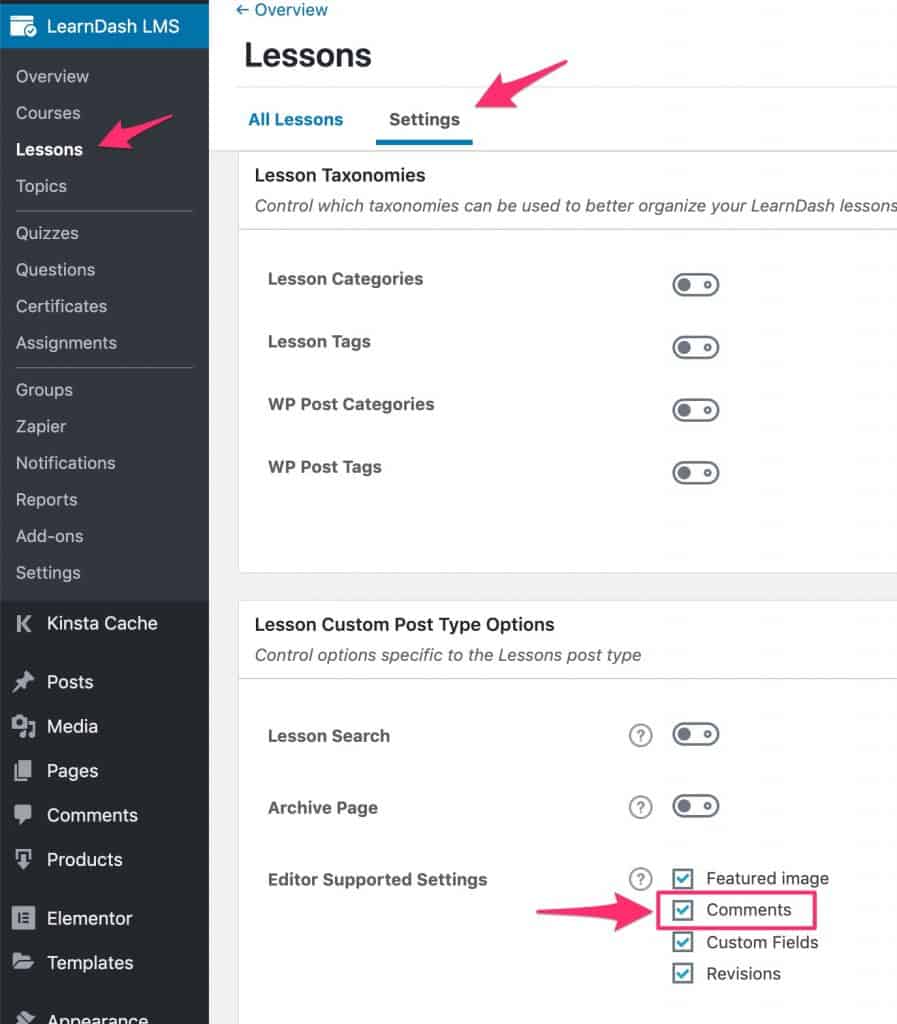 Navigate to the content type you'd like to enable comments for
Ex: LearnDash LMS > Lessons
Next to "All Lessons," click Settings
Scroll down to "Editor Supported Settings"
Enable Comments
Click the Save button at the top
This tells LearnDash that you want to be able to use comments for some (or all) of your lessons.
NOTE
You need to do this for each LearnDash content type that you want to use comments on.
3. Individual Lessons, Topics, Quizzes, Assignments, Essays
Now you need to make sure comments are enabled for each individual piece of content that you want them on. In this example, we'll use lessons, but the same applies for all LearnDash content types.

Navigation to LearnDash LMS > Lessons
Hover over the lesson you want to enable comments for
Click Quick Edit
Make sure the Allow Comments box is checked
Click the Update button
If you have a lot of lessons, you can set all lessons to allow comments in bulk.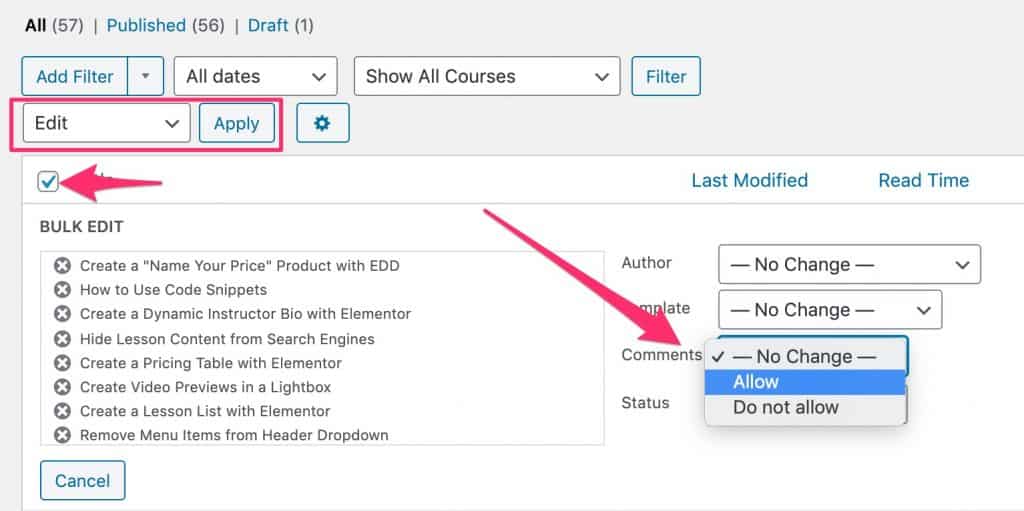 On the LearnDash LMS > Lessons screen
Tick the checkbox at the very top of the list of lessons, within the header
In the Bulk Actions dropdown, choose Edit
Click Apply
Change the "Comments" to Allow
Click Update
NOTE
If you have multiple pages worth of lessons, you'll need to navigate to each page and repeat those steps. Bulk editing only applies to the lessons currently being shown on the screen.
---
And now you should see a comment form at the bottom of whatever content type you just enabled them for.
wpDiscuz in LearnDash Focus Mode
If you're using the wpDiscuz plugin, and want to use it on LearnDash lessons, topics and/or quizzes while using Focus Mode, see this article. There's a small code snippet that will help prevent 2 comment forms from showing up at the bottom of Focus Mode.
Managing Comments
If you decide to allow comments on your LearnDash site this way, they will all appear in the Comments menu in the WordPress admin area. You can edit, delete and respond to them from there.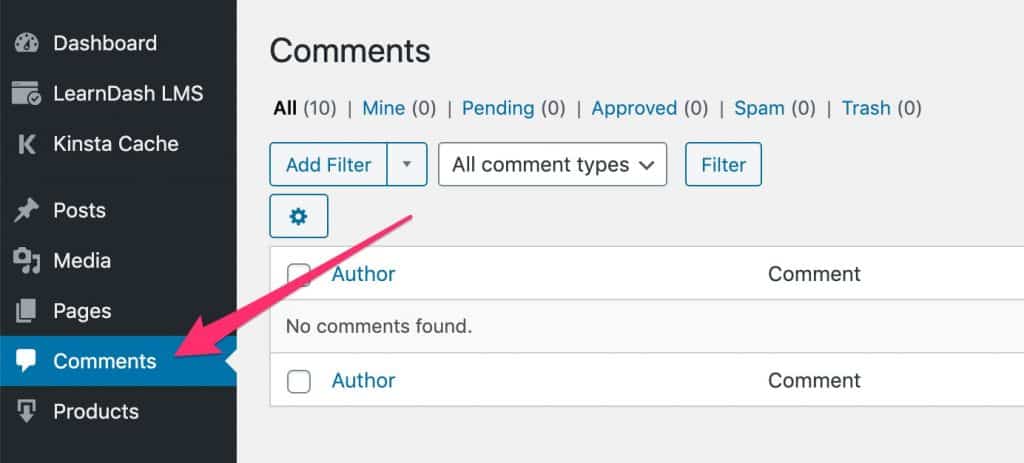 Sponsor
Finally Revealed...
NEW breakthrough solution allows you to IMMEDIATELY GROW student engagement and revenue per student by creating a state of the art mobile application in UNDER 60 MINUTES without ANY coding knowledge!

Proven and tested by over 1,000 LearnDash customers.
Get your LearnDash Mobile App →