Affiliate Disclosure: We may be compensated if you use our links to make a purchase. We are extremely selective in who we partner with & only recommend products we believe in. Our affiliate relationships do not influence our recommendations.
There is no shortage of powerful form builder, membership & ecommerce plugins that automatically enroll users into your LearnDash courses. But many educators still like to enroll users manually.
There are 2 ways to manually enroll users in LearnDash. Let's go over each one.
Choose your own adventure… 🏔🏕🧗‍♀️⛷🚣‍♀️🏋️‍♀️⛹🤺🏇♟️🛴🤹‍♀️
Enroll One User into a Course or Courses
If you only need to enroll one or two individual users into a course or set of courses, this will be your best option. We'll utilize the user's profile page in the WordPress admin area to handle everything.

Navigate to Users > All Users
Click on the person's username to access their WordPress profile
Scroll down to the User Enrolled in Courses section
You should see two columns: "Search All Courses" and "Search Enrolled Courses"
In the Search All Courses column, click the course you want to enroll the user in
Now click the arrow to move that course to the Enrolled Courses column
Be sure to click the Update User button when you're finished
---
Enroll Many Users into One Course
If you need to add a bunch of users into a single course, the approach is a little different. To bulk add users to one course, we're going to use the Edit Course page.
NOTE
You might want to open a second tab with your All Users screen. We're going to need the user IDs from that page.
Navigate to LearnDash LMS > Courses
Click on the course you'd like to add users to
Click the Settings tab at the top of the page
Scroll down to the Course Access Settings section
Enable the Alter Course Access List setting
Real quick, if you don't know how to get a WordPress user ID, watch this video. You'll want to use the "Reveal IDs" plugin for this.
Add each user ID to the textbox, separated by commas
Be sure to click the Update button when you're finished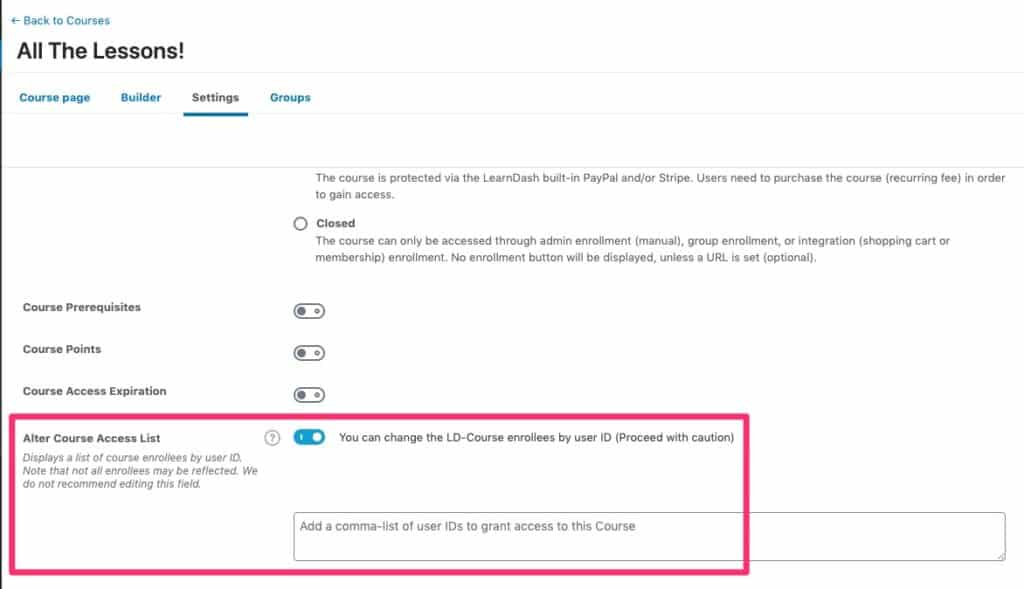 Now all of these users will have access to that course.
---
If anyone knows of other ways to manually enroll users into a LearnDash course, please let me know. These are the only two ways I'm currently aware of, outside of using additional membership or ecommerce plugins.
Sponsor
Finally Revealed...
NEW breakthrough solution allows you to IMMEDIATELY GROW student engagement and revenue per student by creating a state of the art mobile application in UNDER 60 MINUTES without ANY coding knowledge!

Proven and tested by over 1,000 LearnDash customers.
Get your LearnDash Mobile App →