Affiliate Disclosure: We may be compensated if you use our links to make a purchase. We are extremely selective in who we partner with & only recommend products we believe in. Our affiliate relationships do not influence our recommendations.
Black Friday & Cyber Monday sales bring us some of the biggest deals on WordPress plugins that you'll find all year. But the roundup posts are cluttered with 100+ WordPress plugins & themes, 99% of which you don't need and will never use.
👉 Just gimme the 40% off LearnDash deal
So I've pulled together a handful of LearnDash Black Friday deals to make your life easier. If you're looking to take your online course platform to the next level, or have been eyeing a certain plugin but haven't been able to justify the cost… here are the top LearnDash Black Friday deals of 2022.
P.S. If you're open to other LMS platforms, TutorLMS is offering 50% off all plans, including lifetime!
Our very own plugins are on sale:
Most 2022 LearnDash Black Friday deals are ending very soon, if they haven't already ended.
NOTE
Some of the links below are affiliate links & I may earn a commission, but rest assured, I'm always honest with my recommendations. Any money I make helps me reinvest in the LearnDash community with free tutorials on this blog, free plugins on wordpress.org & free help on the LearnDash Facebook page.
👇 Jump to:  Hosting  •  Video  •  Plugins  •  Themes  •  Ecommerce/Membership  •  Affiliate Programs •  Other
In addition to the LearnDash-specific deals below, I also highly recommend you…
speed up your site with WP Rocket. 30% off from Nov 21 – Nov 30. A single site license is only $34. Add Perfmatters for ultimate performance & script management.
optimize your images with ShortPixel (3x more image credits or unlimited credits for 1 domain 🤯)
consider a page builder. Elementor is the clear choice. Up to 30% off, depending on the plan. Now through Nov 30.
The LearnDash Black Friday sale is available now! Go grab 40% off the most popular LMS for WordPress.
Great news! LearnDash is running a sale this year, and it's a big one. But it's only for new customers and available from Now – Nov 29. They typically run this in US Eastern Time.
Get 40% off: Now – Nov 29 with code BFCM22, but discounts appear to be applied automatically at checkout
All purchases are yearly subscriptions and renew at the original price.
The LearnDash plugin is available…
1 site = $199 $119.50
10 sites = $399 $239.40
Unlimited sites = $799 $479.40
LearnDash Cloud is available for 1 year @ $179.40 ($299).
ProPanel, LearnDash's reporting add-on, is…
1 site = $49 $29.40
10 sites = $99 $59.40
Unlimited sites = $199 $119.40
For all of you holding out hope that there would be a LearnDash lifetime deal… sorry, not this year, and probably not ever.
Click here to get 40% off LearnDash →
🤑 More Deals 🤑
The company that owns LearnDash, StellarWP, is offering 40% off a bunch of its WordPress plugins. Check out the StellarWP Black Friday sale here →
LearnDash Hosting Deals
If you talk to 20 people about their preferred LearnDash hosting, you might get 20 different answers. We've put together a comprehensive rundown on LearnDash hosting here.
Of the small handful of hosts I can recommend for LearnDash, only one of them (Cloudways) is offering a Black Friday deal. You should also keep in mind that hosting is the bedrock of a successful LMS. If your hosting sucks, most everything else you do doesn't matter because people won't be able to access your site anyway.
Out of all the aspects of a self-hosted LMS, hosting is the one you should not just chase down a good deal. Invest in powerful, scalable hosting right from the beginning, even if it costs you a little more.
Kinsta
Kinsta is still the best all-around WordPress host out there. They're powered by the Google Cloud Platform & are very scalable. But just like any good LearnDash hosting platform, you have to pay for it. Kinsta doesn't offer discounts for Black Friday, but they offer the following all year round:
free, white-glove migrations from any host
2 free months w/ a yearly plan
15% off for non-profits
and they have the best support of any WordPress product or service that I've worked with in my 10 years with WordPress
You might be interested to read their article that explains hosting for LMS sites. And then sign up for a plan 😉. If you are not very technical, this is arguably the best option.
Cloudways
Cloudways is another popular choice, as they are a managed cloud hosting service. You can actually choose between 5 cloud providers: GCP, AWS, DigitalOcean, Linode & Vultr. And Cloudways helps manage them for you. You can get 40% OFF for the first 4 months with code BFCM4030, available now.
Cloudways is a bit more technical to set up than Kinsta. Most of it is set-it-and-forget-it, but you do have to find your way around their control panel when you first get started. Their support is there to help.
We currently recommend the Vultr (High Frequency) server for LearnDash sites. You can start with the 2GB RAM plan if you have a small site, but you might find yourself upgrading to 4GB or 8GB once you start gaining traction.
Pressidium
Pressidium is the final host I'll mention because of the praise they have received from many in the LearnDash community, especially for enterprise LearnDash hosting. They also have written extensively on their blog about how they've taken steps to optimize LearnDash sites. They're not running a Black Friday deal (that I know of), but they are worth a look.
LearnDash Video Deals
If your LearnDash courses are video-based, you definitely want to consider a good video host. Our favorite combo right now is using Presto Player with Bunny.net, but Vimeo is always a solid choice as well, and a little more beginner friendly.
Presto Player is a feature-rich video player that works great for elearning sites. It offers many industry-standard features at an amazing price. The plugin can play videos hosted on your WordPress site, as well as many popular video hosting platforms, including YouTube, BunnyNet & Vimeo.
Other features include muted autoplay, adjustable controls, chapter markers, picture-in-picture, dynamic video URLs, password-protected videos, and a customizable video player.
Now – Dec 2
Discount automatically applied
NOTE
Presto Player doesn't actually host your videos. They just provide the interface that plays the videos, which offers a ton of useful features for LearnDash sites. We recommend using BunnyNet to host your videos & Presto Player to display them to your students.
Vimeo continues to be one of the most popular video hosting platforms for LearnDash.
Get 25% off all annual Vimeo plans, as well as upgrades to a higher plan. Now through 11/30.
Video Editing Software
LearnDash Plugin Deals
There are a handful of companies that focus on LearnDash plugins, and a few are running deals for Black Friday.
Our Plugins
All of our own plugins are on sale for the rest of the year.
Design Upgrade Pro for LearnDash is offering $10-20 off, depending on the plan. Get a 1-site license for as low as $29.
Quiz Customizer for LearnDash is offering 50% OFF all plans. Get a 1-site license for as low as $12.50.
Design Upgrade Pro for H5P is offering $10 OFF all plans. Get a 1-site license for as low as $29.
The Best LearnDash Deal We've Ever Seen
This is arguably the best deal on this page, and maybe in the history of LearnDash products. Unbelievable value, for a ridiculously low price, from an amazing company.
Uncanny Owl manages a small suite of incredibly popular LearnDash plugins. They're offering 40-60% off all of their plugins from Now – Nov 28.
Here are their extremely popular LearnDash plugins (these make up their "All Access" pass). Each one has a slightly different discount between 40-60% off.
You can get…
10-site All Access Pass = $299 $499
100-site All Access Pass = $499 $999
Another incredibly useful tool from Uncanny Owl that deserves its own mention. The Automator plugin is like Zapier but specifically for WordPress. Connect 70 different WordPress plugins & third-party services with one another using over 400 triggers & actions, without ever leaving the WordPress admin area.
Connect LearnDash with WooCommerce, Easy Digital Downloads, WP Fusion, MemberPress, Gravity Forms, H5P, GamiPress and more.
View all LearnDash automations →
All three plans are discounted between 35-60% off from Now – Nov 25. You need these plans to do site-to-site integrations, so if you host LearnDash on a sub-domain, you'll need one of these plans.
1 site = $70 off
10 sites = $150 off
50 sites = $360 off
WP Fusion integrates your LearnDash site with your CRM or marketing automation system (ActiveCampaign, Drip, ConvertKit, etc). You can track student progress in your CRM, automatically engage students via email based on activity in LearnDash, and control access to site content based on tags in your CRM.
New annual licenses & upgrades get 30% off from Nov 25 – Nov 28 (midnight EST) with code BFCM2022. Excludes lifetime plans.
Aside from LearnDash, they help connect & integrate over 80 popular WordPress plugins to popular services you're probably already using.
WAITING TO HEAR…
We're still waiting to here if Gradebook is offering a deal this year.
Real Big Plugins built the LearnDash Gradebook plugin to give you a better way to visualize grades on LearnDash assignments & quizzes. You can set up a gradebook in the backend (for admins) AND on the frontend (for teachers & group leaders). You can also display a report card on the frontend for students.
You can also:
add grades manually
export grades to a CSV file
assign points & configure percentage values for grading weight
In celebration of Gradebook for LearnDash 3.0 🎉 (which just launched last week), they're offering __% OFF from Fri 11/26 through Sunday 11/28. Use code BLACKFRIDAY30.
📣 The first 30 customers on Black Friday will receive __% off.
In addition to __% off the Gradebook plugin, they're also offering 30% off the other LearnDash plugins they offer:
WisdmLabs – 30-70% OFF Everything LearnDash
WisdmLabs builds themes & plugins for LearnDash, as well as a few other popular WordPress plugins. They are also known for doing LearnDash development work when you need something custom. This discount runs from Now – Nov 30. The discount will be applied automatically.
WisdmLabs offers lifetime plans on their LearnDash plugins, and even those are heavily discounted! 🎉
All of their individual LearnDash plugins are also 30-70% off:
Training Spark – 50% OFF
Training Spark has 4 LearnDash plugins that they're discounting 50% this Black Friday.
I haven't tried out any of these yet so I can't personally vouch for them, but they appear to offer some unique features that I haven't seen from any other LearnDash plugin. Give 'em a look and let us know if you try one out.
WooNinjas has over 20 LearnDash plugins, some of which are free, but quite a few that are premium. Many of them are fairly unique, and provide functionality that no other LearnDash plugin offers. If you're in the market for additional LearnDash functionality, it's worth scrolling through their list of LearnDash add-ons.
Get 25% off all WooNinjas add-ons →
Use code BlackFriday25 at checkout
In addition to all their individual plugins below, they offer various LearnDash bundles to save you money.
Here's a quick rundown of some of their plugins:
Manage Assignments
Audio Assignments
Announcements
Multi Certificates
Course Import/Export
Course Feedback
Activity Timeline
Quiz Reports
Arithmetic Quiz
Materials Library
Instructors Tab
Group Chat
WBCOM Designs – 30% OFF
WBCOM Designs is another company that has several LearnDash plugins, all of which are 30% off from Nov 24 – Dec 1 with code BFCM30.
I haven't used any WBCOM Designs products so I can't speak to their quality, but they solve very specific needs & integrations, so they might be worth a look (if you use PeepSo or wpForo, for example).
LearnDash Themes
Many of you have likely chosen a theme already, but in case you're still early in your LearnDash journey, here are a few theme deals worth looking into. If you want help choosing, read our breakdown of the best LearnDash themes for 2022.
Our top recommendation is to use either Kadence (deal below), Astra (deal below) or GeneratePress (deal below), and then add our own plugin on top of it, Design Upgrade Pro for LearnDash ($10-20 off).
For even more flexibility, grab yourself a license of the Elementor Pro page builder, which has a LearnDash integration. You'll be off to the races! 🏎️
Kadence is offering 40% off everything except lifetime bundles. No code needed; the discount will be automatically applied.
Grab the deal →
Available Now – Nov 29
Kadence is owned by StellarWP, who purchased LearnDash last year. It was already a great theme, but now that Kadence & LearnDash are owned by the same company, I except to see some integrations between the two soon.
While not technically a theme, the Elementor page builder is now integrated with LearnDash. You'll need Elementor Pro to take full advantage of the integration, but you can now get…
Sale runs from NOW to 11/30. Discount automatically applied.

GeneratePress is my preferred theme to use with LearnDash… or for any WordPress site, honestly. It's the fastest, cleanest, simplest, most intuitive theme with the best support. It provides just the right amount of options, and then gets out of your way so you can create content… or use a page to take your design further.
The free version is enough for some, but for the ultimate experience, you can get GeneratePress Premium for only $44. A lifetime license is also discounted to $219.
🎉 Single Theme, Essential & Growth Bundles are up to 50% OFF →
Many people in the LearnDash community love using Astra because it's fast, customizable and works great with page builders. Their 2022 Black Friday deals are good for both annual & lifetime licenses.
Now – Dec 2. Discount automatically applied. Get Astra Pro for as little as $44, or a lifetime license for $209.
eLumine by WisdmLabs – Included w/ LearnDash Bundle
The eLumine theme is not discounted by itself this year, but it is included with the LearnDash Essential Add-Ons Pack (LEAP), which is 26% OFF for Black Friday.
The eLumine theme is for those who are looking for a more customized layout for their LearnDash site. Check out the live demo →
BuddyBoss is a theme/plugin combo that is popular with LearnDash users. It is loaded with a ton of features (some of which you might not need). But if social learning is a huge component of your site, BuddyBoss is the only solution out there that seamlessly incorporates BuddyPress AND bbPress into LearnDash. It's really powerful and there's nothing else like it out there.
BuddyBoss is running the following 2022 Black Friday deals:
1. BuddyBoss lifetime deal for Black Friday is available starting at 9am CST Nov 22. Get the BuddyBoss theme & Platform Pro. You'll also get 10% off for the lifetime of your BuddyBoss App subscription.
1 site $768  •  5 sites $968  •  10 sites $1,268
You can also split these up into 2-3 payments.
You can get a prorated refund if you recently purchased an annual license.
We don't know when this deal is ending so I'd jump on it quickly if you plan to pull the trigger.
Reign LearnMate by WBCOM Designs – 35-40% OFF
We already mentioned WBCOM Design's plugins, but they also have a LearnDash-focused theme called LearnMate. It's an extension of their flagship theme, Reign.
Get 35-40% off from Now – unsure. Discount automatically applied.
LearnMate is compatible with Elementor and they have demos, as well as a sandbox you can play around with yourself.
Ecommerce/Membership Options
The following plugins do not add extra functionality to LearnDash itself, but rather they help you with your checkout process, registration flow, etc. if you are selling LearnDash courses for a fee. They are popular options amongst many current LearnDash users.
WooCommerce is offering 40% off every extension in their marketplace now – Nov 29.
Many LearnDash users love to combine WooCommerce Subscriptions with WooCommerce Memberships to create a full-fledged, recurring membership site with LearnDash. These extensions are not cheap so now's a great time to snag them for a discount.
EDD, as it is known in the community, is my go-to ecommerce plugin for selling anything digital. LearnDash courses obviously fit into this category, so it makes for a great choice if you're looking for a more flexible checkout process for LearnDash.
It does take a little time to set up, but once you have it configured, it runs like a charm.
Get 65% off now – unsure. Discount applied automatically.
Want to know why I use it to power ldx.training? Read my guide on how & why to use Easy Digital Downloads w/ LearnDash.
CartFlows – 55% OFF (checkout flow)
CartFlows is all about improving the checkout experience. You can create better checkout flows, redirections, upsells, downsells, order bumps, etc. It requires WooCommerce as your ecommerce plugin, but many LearnDash users have been raving about it in the private Facebook group, and it has great reviews amongst the WordPress community.
It was also developed by the folks at Brainstorm Force, the creators of the Astra theme, alongside Adam Preiser who runs WPCrafter.
Get 55% off from Now – Dec 2. $249 → $112. Discount automatically applied.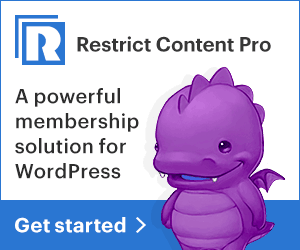 Restrict Content Pro (RCP) was built for offering varying types of membership levels. It's an excellent choice if you're looking to sell access to a membership with many LearnDash courses within it.
If you plan to sell LearnDash courses as part of a membership, definitely consider RCP.
Along with Restrict Content Pro (above), MemberPress is one of the most popular membership platforms for WordPress. It has excellent integrations with LearnDash, and many folks in the LearnDash community are using it successfully to manage membership programs for their platform.
💻 Also, you can enter to win a 14″ MacBook Pro M1! 😲
Setting up an Affiliate Program?
There are a few options if you plan to offer an affiliate program for your courses… but AffiliateWP is far and away the best one. Good news. They're running a Black Friday deal.
Get $150-$400 savings now – unsure. Discount auto-applied.
1-site = $299 → $149.50
3-sites = $399 → $159.60
10-sites = $599 → $179.70
Other Plugins You Might Be Interested In
These plugins aren't directly related to LearnDash, but you could improve a LearnDash site with some of these things, if they are required features for your specific site.
---
If there's a product you're interested in that isn't on this list, leave a comment below and we might be able to hook you up with 2022 Black Friday deals for it as well.
That does it for our LearnDash Black Friday deals for 2022. I hope you were able to score a nice deal on something you needed to enhance your learning experience.
🎄✡️☃️
Enjoy whatever holiday you celebrate this time of year, and be sure to spend some quality time with family & friends 👪.
Sponsor
Finally Revealed...
NEW breakthrough solution allows you to IMMEDIATELY GROW student engagement and revenue per student by creating a state of the art mobile application in UNDER 60 MINUTES without ANY coding knowledge!

Proven and tested by over 1,000 LearnDash customers.
Get your LearnDash Mobile App →