Affiliate Disclosure: We may be compensated if you use our links to make a purchase. We are extremely selective in who we partner with & only recommend products we believe in. Our affiliate relationships do not influence our recommendations.
If you're selling courses using LearnDash's built-in PayPal integration, there are a few important settings you need to be aware of. Most of the PayPal settings in LearnDash are self-explanatory, but there are two in particular that can cause problems 🤑… especially for those using international currency (the UK in particular).
Let's take a look at the settings and make sure you have your LearnDash/PayPal integration set up properly for using non-US dollars.
Navigate to LearnDash's PayPal Settings
Login to your WordPress admin area and navigate to LearnDash LMS > Settings.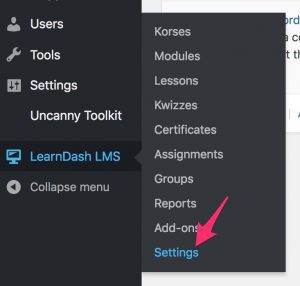 Click on the PayPal Settings tab at the top of the page.

PayPal Currency & Country Codes
On this page, there are two PayPal settings you need to make sure are accurate:
PayPal Currency
PayPal Country

For US dollars, it's pretty straight forward:
PayPal Currency: USD
PayPal Country: US
However, for the UK it gets a little tricky. The country code is not UK like you'd expect. It's actually GB.
To use British Pounds in the UK, enter:
PayPal Currency: GBP
PayPal Country: GB
To use Euros in the UK, enter:
PayPal Currency: EUR
PayPal Country: GB
If you're having trouble setting up PayPal with an international currency, check our list of PayPal codes below, or view PayPal's list of country & currency codes directly.
Another Possible Solution
If that doesn't work, I overheard a conversation in the LearnDash LMS Tips & Tricks Facebook group where someone entered the British Pound (£) symbol into the price on their course page. However, it looks like that might only change the appearance of your currency. You might still have problems processing payment.
Frustrated with the LearnDash design?
Design Upgrade for LearnDash
80+ styling options for LearnDash.
Complete design control in the WordPress Customizer.
List of PayPal Country/Currency Codes
| Country (Currency) | PayPal Currency Code | PayPal Country Code |
| --- | --- | --- |
| United States (US Dollar) | USD | US |
| UK (Pound Sterling) | GBP | GB |
| UK (Euro) | EUR | GB |
| Spain (Euro) | EUR | ES |
| France (Euro) | EUR | FR |
| Australia (Australian Dollar) | AUD | AU |
| New Zealand (Dollar) | NZD | NZ |
Please let me know what other countries/currencies you'd like to see.
Sponsor
Finally Revealed...
NEW breakthrough solution allows you to IMMEDIATELY GROW student engagement and revenue per student by creating a state of the art mobile application in UNDER 60 MINUTES without ANY coding knowledge!

Proven and tested by over 1,000 LearnDash customers.
Get your LearnDash Mobile App →