Affiliate Disclosure: We may be compensated if you use our links to make a purchase. We are extremely selective in who we partner with & only recommend products we believe in. Our affiliate relationships do not influence our recommendations.
The Elementor page builder has now surpassed 5 million active installs, making it arguably the most popular WordPress page builder out there. And for good reason.
It can be a powerful tool for designing beautiful landing pages, including those used in your online courses. Since LearnDash doesn't provide much in the way of design for course, lesson & topic pages, Elementor is a great tool to use alongside LearnDash.
The Big Problem: Why can't you select the course, lesson or topic post type when creating a "Single" Elementor template with the Theme Builder?
Thankfully, there's a fairly easy solution. I'll explain the steps below.
IMPORTANT
For lessons/topics, this only works when you are NOT using Focus Mode. Focus Mode completely takes over the layout of lesson/topic pages, and Elementor theme builder templates will not be applied.
Step 1: Enable LearnDash Post Types in Elementor Settings
First, you need to make sure the LearnDash post types are enabled in your Elementor settings.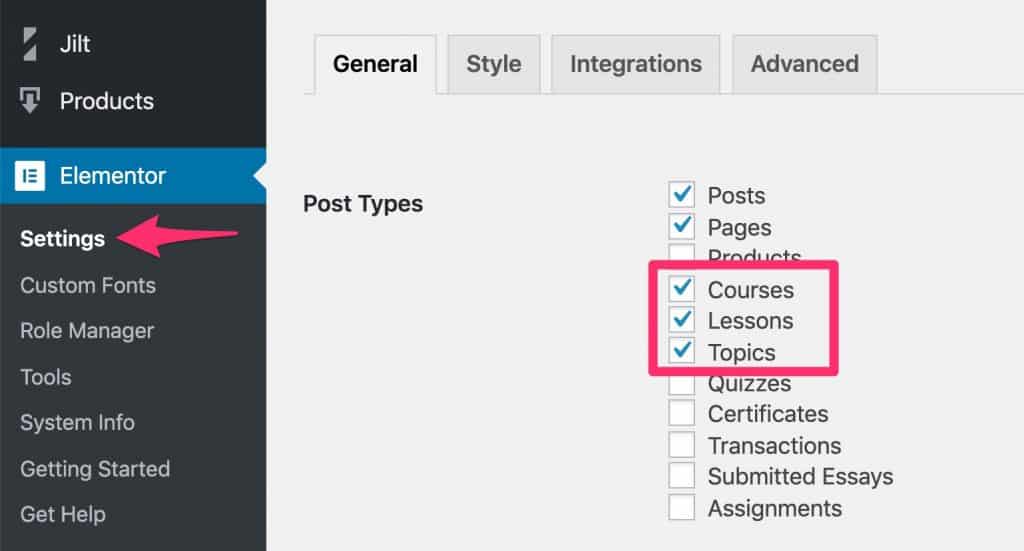 Navigate to Elementor > Settings
On the "General" tab, in the "Post Types" section, look for the LearnDash post types
Make sure the boxes are checked for Courses, Lessons & Topics (Quizzes, Essays & Assignments are also available)
Click Save Changes at the bottom
For most other plugins & custom post types, this will be all that is needed. However, it is highly recommended you use the LearnDash-Elementor integration plugin in order to set up Theme Builder templates for LearnDash pages. So…
Step 2: Enable the LearnDash-Elementor integration plugin
You can download the plugin from LearnDash's support site, or…
Navigate to LearnDash LMS > Add-ons
Locate the Elementor for LearnDash plugin
Click Install Now
Click Activate
Now you're ready to head over to Templates > Theme Builder to create a template for a course, lesson, topic, or quiz.
---
A previous version of this article listed a code snippet that was required. However, once LearnDash released their Elementor integration, this code is no longer required. LearnDash removed it from their snippet library.
---
Now that you have the option, why don't you learn how to create a custom course template with Elementor →
Sponsor
Finally Revealed...
NEW breakthrough solution allows you to IMMEDIATELY GROW student engagement and revenue per student by creating a state of the art mobile application in UNDER 60 MINUTES without ANY coding knowledge!

Proven and tested by over 1,000 LearnDash customers.
Get your LearnDash Mobile App →