Many of you who use LearnDash also use Elementor to build your lesson & topic pages. This article addresses a very specific design issue when using the Elementor Icon List widget.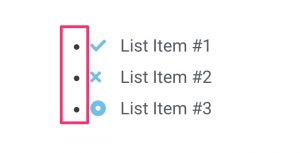 In LearnDash Focus Mode, Elementor icon lists have bullet points next to them, and this is not the expected behavior. This is because LearnDash's CSS overrides Elementor's CSS for icon lists.
I'll provide the CSS to remove the bullets that LearnDash adds and return your Elementor icon lists back to normal.