Affiliate Disclosure: We may be compensated if you use our links to make a purchase. We are extremely selective in who we partner with & only recommend products we believe in. Our affiliate relationships do not influence our recommendations.
Black Friday & Cyber Monday sales bring us some of the biggest deals on WordPress plugins that you'll find all year. But the roundup posts are cluttered with 100+ WordPress plugins & themes, 99% of which you don't need and will never use.
So I've pulled together a handful of LearnDash Black Friday deals to make your life easier. If you're looking to take your online course platform to the next level, or have been eyeing a certain plugin but haven't been able to justify the cost… here are the top LearnDash Black Friday deals.
Just gimme the LearnDash plugin deal
Sorry. The LearnDash Black Friday discount has expired.
Today (12/6) is the last day of deals. A few membership & affiliate plugins remain 👇
NOTE
Some of the links below are affiliate links & I may earn a commission, but rest assured, I'm always honest with my recommendations. Any money I make helps me reinvest in the LearnDash community with free tutorials on this blog, free plugins on wordpress.org & free help on the LearnDash Facebook page.
👇 Jump to:  Hosting  •  Plugins  •  Themes  •  Ecommerce/Membership
In addition to the LearnDash-specific deals below, I also highly recommend you…
speed up your site with WP Rocket (35% off, now – 12/3)
optimize your images with ShortPixel (2.5x the image credits, expires 12/2)
And while there has been some concern over Vimeo charging extra for exceeding bandwidth limits, they are still one of the most popular video hosting platforms for LearnDash.
Get 25% off all Vimeo plans, and a FREE CAMERA if you upgrade to Premium
LearnDash Itself – 50% OFF 🎉
Sorry. The LearnDash deal has expired, but there are some still available through 12/5. Read on below…
Great news! LearnDash is running a sale this year, and it's a big one. But it's only for new customers and only available during certain hours on Black Friday, and again on Cyber Monday. The time is in U.S. Eastern Standard Time, so be sure to convert that to your local time so you don't miss out.
Expired Get 50% off today only (12/2)! Deal ends at 4pm EST today. Use code CYBERMONDAY50
Expired Get 50% off on Black Friday (11/29) from 7am – 4pm EST with code BLACKFRIDAY50
For those not in the U.S., here are a few time conversions for the end date/time:
London, UK: 9pm (12/2) – GMT (UTC-0)
India: 2:30am (12/3) – IST (UTC+5:30)
Western Australia: 5am (12/3) – AWST (UTC+8)
Sydney/Melbourne: 8am (12/3) – AEDT (UTC+11)
Brisbane/Cairns: 7am (12/3) – AEST (UTC+10)
For all of you holding out hope that there would be a LearnDash lifetime deal… sorry, not this year.
MORE DEALS
Check out my other list of WordPress Black Friday deals if you're in the market for something not LearnDash-related.
LearnDash Hosting Deals
If you talk to 20 people about their preferred LearnDash hosting, you might get 20 different answers. And I'm not going to recommend one single host either.
Of the small handful of hosts I can recommend for LearnDash, only one of them (that I know of so far) is offering a Black Friday deal. You should also keep in mind that hosting is the bedrock of a successful LMS. If your hosting sucks, most everything else you do doesn't matter because people won't be able to access your site anyway.
Out of all the aspects of a self-hosted LMS, hosting is the one you should not just chase down a good deal. Invest in a great, scalable hosting right from the beginning, even if it costs you a little more.
Kinsta is still the best all-around WordPress host out there. They're powered by the Google Cloud Platform & are very scalable. But just like any good LearnDash hosting platform, you have to pay for it. Kinsta is not running a Black Friday deal this year, but you might be interested to read their article that explains hosting for LMS sites.
Cloudways is another popular choice, as they are a managed cloud hosting service. You can actually choose between 5 cloud providers: GCP, AWS, DigitalOcean, Linode & Vultr. And Cloudways helps manage them for you. You can get 40% OFF for the first 3 months with code BFCM40, now through 12/4.
Pressidium is the final host I'll mention because of the praise they have received from many in the LearnDash community, especially for enterprise LearnDash hosting. They also have written extensively on their blog about how they've taken steps to optimize LearnDash sites. They're not running a Black Friday deal (that I know of yet), but you should absolutely give them a look.
LearnDash Plugin Deals
There are a handful of companies that focus on LearnDash plugins, and a few are running deals for Black Friday.
Uncanny Owl – 25% OFF
Uncanny Owl manages a small suite of incredibly popular LearnDash plugins. They're offering 25% off for new customers from 11/29 – 12/2. Use code black-friday-2019 at checkout.
Here's a list of all their plugins:
Uncanny Automator – 50% OFF
Another useful tool from Uncanny Owl that deserves its own mention. The Automator plugin is like Zapier but specifically for WordPress. Connect 18 different WordPress plugins with one another using triggers & actions, without ever leaving the WordPress admin area.
Connect LearnDash with WooCommerce, Easy Digital Downloads, WP Fusion, MemberPress, Gravity Forms, H5P, GamiPress and more.
View all LearnDash automations →
New customers get 50% off from 11/29 – 12/2. Use code black-friday-2019 at checkout. Excludes the "Lite" plan.
WP Fusion – 30% OFF
WP Fusion integrates your LearnDash site with your CRM or marketing automation system (ActiveCampaign, Drip, ConvertKit, etc). You can track student progress in your CRM, automatically engage students via email based on activity in LearnDash, and control access to site content based on tags in your CRM.
New customers & upgrades get 30% off from 11/29 – 12/2 with code BLACKFRIDAY19
Aside from LearnDash, they help connect & integrate over 80 popular WordPress plugins to popular services you're probably already using.
LearnDash Quiz Customizer – $5-10 OFF
One of our very own plugins, the LearnDash Quiz Customizer, is on sale now through the end of the year. 35+ customization options specifically for LearnDash quizzes, including a bunch of text/button labels you can customize.
Single Site – $9/yr (originally $14)
20 Sites – $19/yr (originally $29)
Here are a few videos showcasing what it can do:
Watch more videos & purchase →
WisdmLabs – 30% OFF
WisdmLabs builds themes & plugins for LearnDash, as well as a few other popular WordPress plugins. They are also known for doing LearnDash development work when you need something custom.
Get 30% off any/all of their LearnDash plugins from 11/29 to 12/2 with code BFCM30.
WBCOM Designs – 30% OFF
WBCOM Designs is another company that has several LearnDash plugins, all of which are 30% off from 11/28 – 12/3 with code BFCM30.
I haven't used any WBCOM Designs products so I can't speak to their quality, but they solve very specific needs & integrations, so they might be worth a look (if you use PeepSo or wpForo, for example).
LearnDash Themes
Many of you have likely chosen a theme already, but in case you're still early in your LearnDash journey, here are a few theme deals worth looking into.
Our top recommendation is to use either the Astra theme (discount below) or GeneratePress, and then add our own plugin on top of it, Design Upgrade Pro for LearnDash.
Astra Pro – 30% OFF, Now – 12/4
🎉 Get their lifetime deal, unlimited sites, for $489 →
Many people in the LearnDash community love using Astra because it's fast, customizable and works great with page builders.
Get 30% off Astra Pro from Now – 12/4. Discount automatically applied.
eLumine by WisdmLabs – 30% OFF
Get 30% off the eLumine theme from 11/29 to 12/2 with code BFCM30.
BuddyBoss – 20-30% OFF
BuddyBoss is a popular theme with LearnDash users, but it's not for everyone. It is loaded with a ton of features (that you might not need) and is difficult to customize. We don't recommend it for many people, but… if social learning is a huge component of your site, and you already love the design that BuddyBoss provides, it's the only theme out there that seamlessly incorporates BuddyPress into LearnDash. It's pricey but powerful.
Get 30% off from 11/24 – 11/29 with code BLACKFRIDAY2019
Get 25% off from 11/30 – 12/1 with code BLACKFRIDAY2019b
Get 20% off from 12/2 – 12/3 with code CYBERMONDAY2019
They say the discounts are sitewide, but I'm not sure how they'd apply to the mobile app services that BuddyBoss provides. They do sell a mobile app package on their site, so maybe check with their support first to see if the discount applies there as well.
Reign LearnMate by WBCOM Designs – 30% OFF
We already mentioned WBCOM Design's plugins, but they also have a LearnDash-focused theme called LearnMate. It's an extension of their flagship theme, Reign.
Get 30% off from 11/28 – 12/3 with code BFCM30
Ecommerce/Membership Options
The following plugins do not add extra functionality to LearnDash itself, but rather they help you with your checkout process, registration flow, etc. if you are selling LearnDash courses for a fee. They are popular options amongst many current LearnDash users.
Easy Digital Downloads
EDD, as it is known in the community, is my go-to ecommerce plugin for selling anything digital. LearnDash courses obviously fit into this category, so it makes for a great choice if you're looking for a more flexible checkout process for LearnDash.
It does take a little time to set up, but once you have it configured, it runs like a charm.
Get 25% off from 11/29 – 12/6. Use code BFCM2019
CartFlows (checkout flow)
CartFlows is all about improving the checkout experience. You can create better checkout flows, redirections, upsells, downsells, order bumps, etc. It requires WooCommerce as your ecommerce plugin, but many LearnDash users have been raving about it in the private Facebook group, and it has great reviews amongst the WordPress community.
It was also developed by the folks at Brainstorm Force, the creators of the Astra theme.
Get 30% off from Now – 12/4. Discount automatically applied.
Restrict Content Pro (memberships)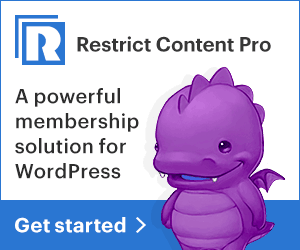 Restrict Content Pro (RCP) is built by the same folks that make Easy Digital Downloads. RCP was built for offering varying types of membership levels.
This can work with LearnDash courses, it just depends on how you want to structure your LMS.
Get 25% off from 11/29 – 12/6. Use code BFCM2019
MemberPress (memberships)
Along with Restrict Content Pro (above), MemberPress is one of the most popular membership platforms for WordPress. It has excellent integrations with LearnDash, and many folks in the LearnDash community are using it successfully to manage membership programs for their platform.
Get 60% off from Now – 11/29. Discount automatically applied.
💻 Also, you can enter to win a new MacBook Pro! 😲
Setting up an Affiliate Program?
There are a few options if you plan to offer an affiliate program for your courses… but AffiliateWP is far and away the best one. Good news. They're running a Black Friday deal.
Get 25% off from 11/29 – 12/6. Use code BFCM2019
---
That does it for our LearnDash Black Friday deals. I hope you were able to score a nice deal on something you needed to enhance your learning experience.
🎄✡️☃️
Enjoy whatever holiday you celebrate this time of year, and be sure to spend some quality time with family & friends 👪.